This damn thing won't play unless you click on the play button!
I blogged about Japanese animations yesterday, and I can't help but to tell you I'm actually a big fan of cartoons. Yes, I'm a big kiddo just like
Jeannie
said when I bought the Yu-Gi-Oh comic right in front of her.
Rather than going through the other cartoons from the West that I love to watch, I'm jumping into the Squarepants right away.
Behold the Mighty Squarepants!
Did I hear someone just said that SpongeBob Squarepants is for kids? No way! I'm not a kid!! I'm not! I'm gonna tell my momma that you said that. Then she's gonna call yours and you're gonna get grounded!! XP~~~ (Now that, is extremely kiddo...)

Yipee!!! I'm the Employee of the Month!
Now seriously, SpongeBob is a character that kids and adults can relate to and laugh at for entertainment. I mean, come on, where the heck do you find someone as naive like SpongeBob? Or worse.. ignorant like Patrick.

SpongeBob's best buddy!
Okay, enough of
stupid
innocent characters. Let's look at the more realistic characters in the show. Introducing Squidward, the one who is very down to earth but unfortunately in the show it means he gets bugged the hell out from Spongebob and Patrick. Lol.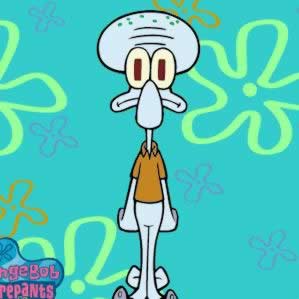 You don't see him happy very often cuz of Spongebob's acts
Next up, the even more realistic and materialistic Mr Krabs! The employer of Spongebob and Squidward and owner of Krusty Krabs where the delicious crabby patty is available. He likes money and money alone till he'll open another same restaurant next to his selling the same damn thing.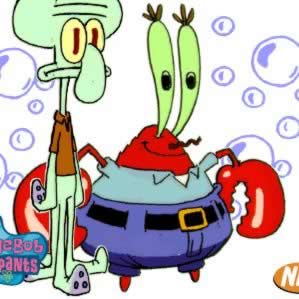 He'll never pay Squidward a dime more. Wakakaka
I'm not doing a paid post here to promote the cartoon cuz I believe they already have enough publicity already. I'm just sharing what I enjoy watching from the idiot box occasionally. :)
Till the next time we meet at Bikini Bottom~
Cheers
Robb