For some of you who didn't know, Nuffnang Malaysia had a company trip down South to Singapore last week for an annual company affair. It's the time of the year where all the Nuffies gather around and get to know each other better. Take it like some sort of bonding trip. :)
No, I said bonding, not bondage.
The Malaysian Nuffies gathered early at Bandar Utama as our bus leaves at 8.
Boss Tim
made us take pictures as though we're walking in style ala 'The Apprentice'.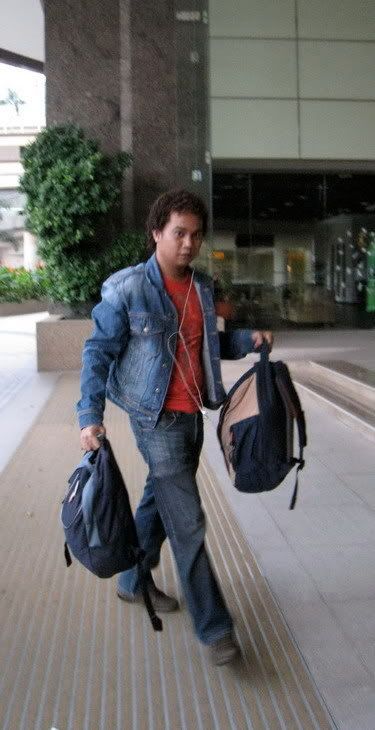 Thank God, I looked my best despite the fact I didn't sleep much the night before due to the fact I had to take the 6am LRT from Wangsa Maju to Kelana Jaya. I guess the Empario Armani shades helped a little. :)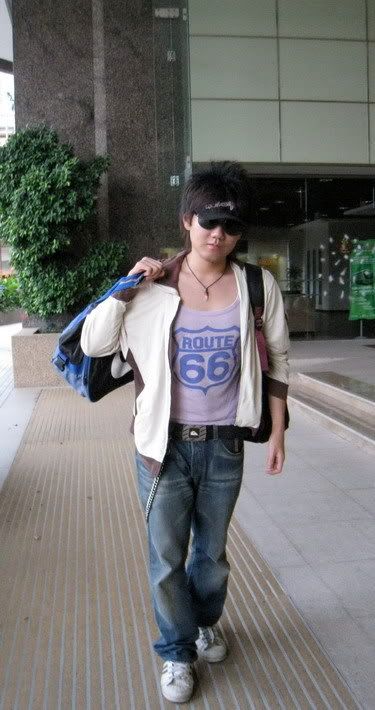 The bus journey was an ordinary one. 2 cars crashed in the highway, saw a T-rex razing a village and I was taken by a UFO for anal probe for about 15 minutes.
5 hours later, we reached Singapore and I was outta Malaysia for the first time in my life. I'm glad that my job enabled me to go places. First time going on a plane, first time outta the country, what's next? First time on a cruise? Lol. Only time can tell.
Once we reached, we checked in to Perak Hotel and headed off to the well acclaimed Singaporean office immediately. Rumor has it that it is 6 stories high with rooms for every Nuffie to work in, a swimming pool and a pantry filled with good food.
It wasn't difficult to find the office as we noticed the sign outside the unit.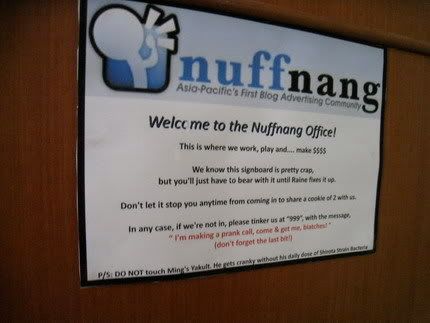 Here's the interior of the office. It's really comfy as we can see it's well decorated.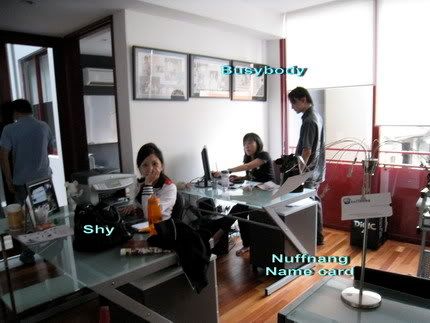 And if you noticed closer, there's a wall of fame on some of the articles Nuffnang are featured in newspapers. These are among the early newspaper clippings we had. Of course, as of now, I've lost count how many times did the company I'm proud to work for came out in newspaper. In case you're wondering, the guy half naked in the first article on the left, is me.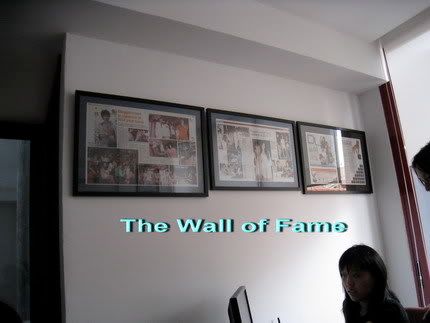 Used to had a full size of it, but Flickr ate it. :(
When we went exploring for the food, sadly, we found out that all the Famous Amos cookies and Ferrero Roche have been cleaned neatly by our Singaporean colleagues. :( Luckily, there were lots of Brands Chicken Essence to compensate.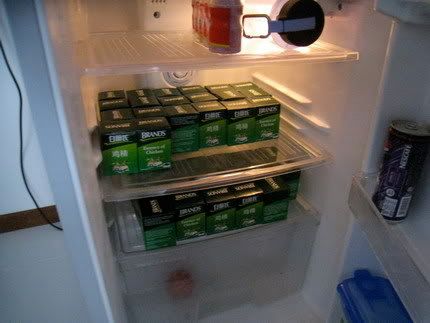 And to our amazement, there were also lots of board games at standby. According to
Boss Ming
, it's for events and sometimes for the Nuffies to play when waiting for clients to get back on certain work. How nice! The last I checked, we only had cards in KL office.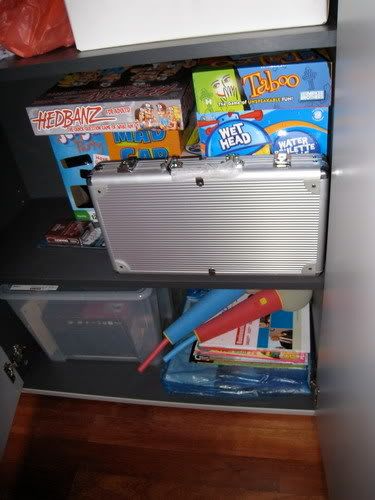 After checking out the office, we went off to our first outing officially. It was bowling!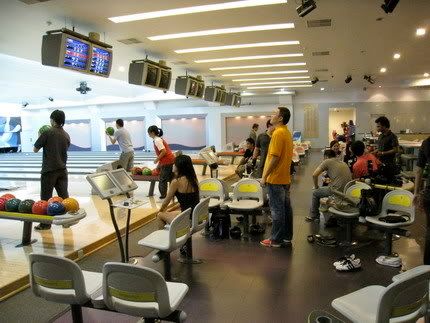 Here, it's obvious that some of our colleagues enjoyed themselves very much as they were quite alright with throwing balls at pins. I on the other hand kinda suck at it badly. Yes, the gay guy sucks at throwing balls.
And it's evidently that both my bosses were pretty good at it judging from their smiles.
After bowling, we decided to walk around the place for pictures and we saw a sweet car. And by sweet, it's literally sweet.
Then all of the sudden, both my bosses got mad and whacked the shit outta me. :(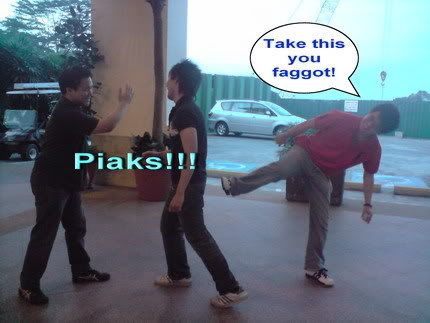 Guess that fags aren't that accepted easily. Sigh~
We summed up the day by having dinner at one of the coolest hawker center which I don't even know where it is, but I know it's near the beach as I saw people water skating with wires on. It was windy and cooling. :)
The food served were in generous amount. Either that, or Boss Ming really paid a lot for them. We technically were all pregnant after the meal.
Hui Wen, my Singaporean colleague brought her dog, Scruffy out to the dinner! I was so delighted to see him as I missed Zuzu real bad. Scruffy was cute, but Zuzu is more friendlier I think. :D
That was all for day 1 in Singapore. I will share more next time.
P.S. I shared the room with
Firdauz
and
Yee Hou
. That night, Yee Hou jumped on Firdauz and they went under the same blanket. They both like girls.
Cheers
Robb