I feel the sudden itch of talking about this subject today. Lol.
As far as I know, this originated back in the days mIRC was the IN thing. Well, people will get into a channel call #klsex or something then start messaging each other if they wanna have sex (real) but some losers who aren't exactly a good sight for the eyes thought of;
"Hey, why don't we just pretend we're having sex by typing what we do with each other?"
And thus, cybersex was born. Yes, people get the thrill out of typing out what they think they will do if they're on bed with you. Lol. As funny as it sounds, there are people still doing it these days. Lol. I've got to admit, when I was young and curious, I did that too. Heck, back then I wasn't even sure I'm gay but I intended to find out more about sex (you know, before sex-Ed days) and camsex.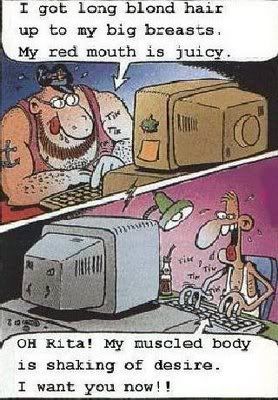 Let me share my experience of cybersex. It's not as funny as the one my boss wrote but it's more of a personal humor. Lol. Back then I used a nickname called 'Chris' which is more of a unisex name seeing that it can be Christopher or Christine. And so 'Chris' wandered around some sex channel and people started messaging him/her for cybersex.
Sdy31M : Hey there! Asl pls (it meant age, sex and location)
*Logic tells me that this is a male. As I wasn't sure what was cybersex all about, I played along to learn from the wise ones, lol*
Chris : Hi. I'm 18/f/kl.
Sdy31M : Nice to know you, Chris. What's your cup?
Chris : Huh? <--- The word that totally blew my identity.
Sdy31M : Fuck! You're guy. Fuck off you faggot!
-End-
I was 14! My knowledge about human anatomy or sex related issues were that bad that I had no idea what the fuck cup meant. I was scratching my head thinking was he asking about my Milo cup? Lol. Yes, laugh all you want. Well, after awhile I figured out how it worked and it wasn't anything exciting at all. I mean, come on. Pretending like it's really happening just by reading texts? So not gonna work for me. At any rate, if you wanna have more laughs about cybersex, check out
here
.
P.S. More about phone sex and cam sex soon. Lol
Cheers
Robb