Being a person who put up events once in awhile for bloggers I tend to observe every public gimmick other people put up at times. Most of the time, things are pretty much the same but what I saw during the Nokia 5800 Xpress Music Launch was way cool from all the gimmicks and launches I saw before.
They set up a teaser at Pavilion's Bukit Bintang entrance for about a week with a huge cloth covering it with the text - 'Be Here on 9th of January 2009 at 7pm' and truly people are crowding the place at the fixed time.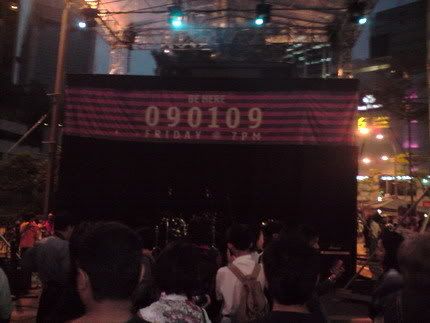 The teaser set up
It started up with a few funky looking adolescences dancing street style in front of the set up stage then the launch kicked off with StrikeForce from Singapore bringing the beat with awesome drumbeats. It was a performance like no other and I bet everyone who saw it agree with this.

It doesn't sound impressive on video, but if you were there during the launch, you'd have agreed with me it was awesome
Well, gimmick being gimmick, it was real catchy to draw the attention of the public. Then we were addressed by Vlasta Berka, the GM of Nokia Malaysia to introduce the features of the new Nokia 5800 XpressMusic. It retails at RM 1,499 and features a 3.2" touchscreen with vibrating feedback. It also comes with a 3.2 MP camera. However, the best thing about this deal is that Nokia is giving away 1,000 DRM songs for free with the phone!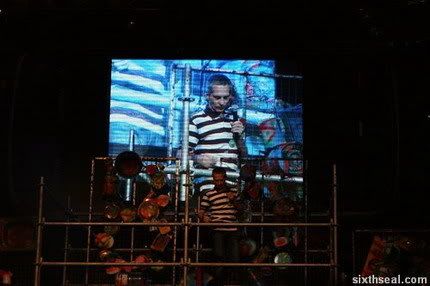 That's Vlaska giving a speech up there. Pic rippled from Sixthseal.com
To be honest, I've always been a great fan of Touchscreen phones. Nokia has always been the retailer of my choice for mobile phones but sadly, they never had a touchscreen phone available till now! I was so excited when they previewed this during the Silent Halloween last year and I still am. In fact I'm thinking I might just get one if my funds allow me to do so.
Nokia Malaysia really knows how to liaise with the traditional media and the alternative media. Aside from inviting the people from papers, magazines and etc to cover the launch, they also invited bloggers to come along. It's no secret that most people rely a lot on information found on the Internet for their consumption and it's really a good call for Nokia Malaysia to actually reach out to the online communities to spread the word about their new phone.
The bloggers are given a private space as the Nokia Insiders at La Bodega. In La Bodega, we were served tapas. Lots and lots of tapas.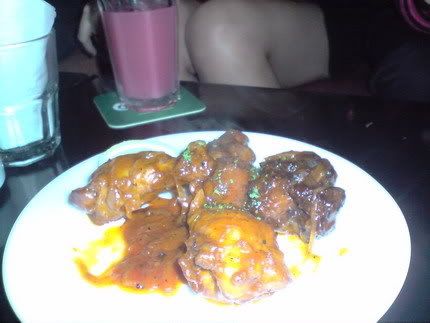 Chicken, anyone? :D
There were a lot of familiar faces as the active bloggers who attend events normally know each other. Among them were
Cindy
, the Malaysian Dreamgirl.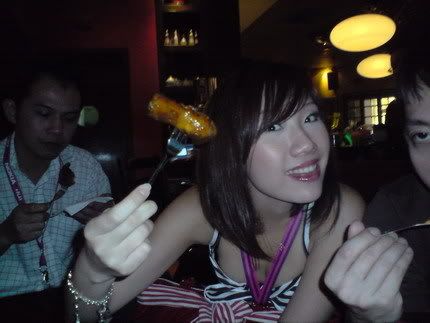 Yee Hou
and
Suanie
helping themselves with the tapas available.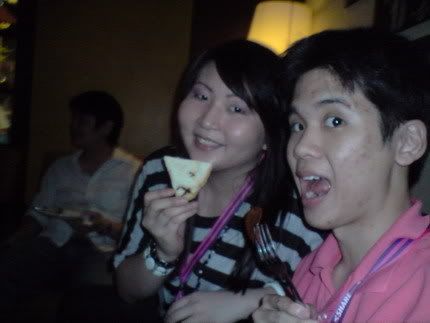 I was also there because I'm a blogger and also an associate as my company had a very good relationship with Nokia after last year's Silent Halloween. :) I was pretty hungry after going to gym prior to the launch and I wasted no time to consume some cheese and carbs though I know it's not good for my body. :(
KY
the
makan
king didn't waste no time to take picture with their delicious deep fried calamari (made of sotong. I ate them too, I'm a cannibal).
For the main course, we were served a huge ass seafood paella.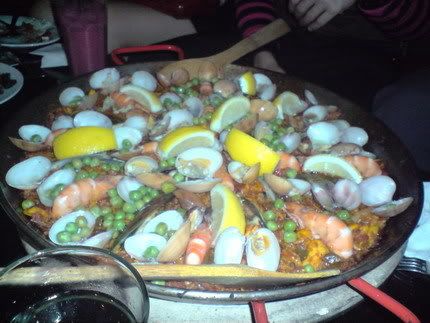 Trust me. When I say it's huge ass, it's literal as you can see how many hands we had to put together to match the size of servings.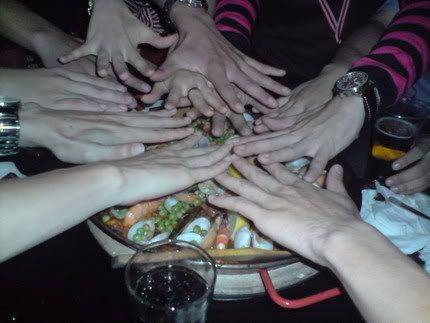 I walloped quite a number of mussels and
lala
but I stayed clear off the carbs served. Watching my intake especially in the late evening. :D Wait a second. I think I'm now a certified lalazai.

Lala on left, zai on right = Lalazai
No kidding. Lol.
All in all the night was a good one as bloggers and organizers alike enjoyed each others company really much as we stayed a chatted till midnight. A job well done for
David
and colleagues for such a successful launch.
Before I end this post, here's a picture why bloggers can crap so much nonsense.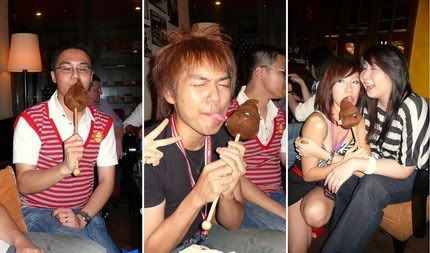 It's because we like to smell, lick and be close to shits. Lol.
Cheers
Robb