Boasting is not exactly a good thing to do, but today what I'm going to share might be considered boasting to some of you dear readers.
You see, I'm rather good with my words. As much as I don't like to lie and I like to get straight to the point, there are times when my professionalism kicks in (sometimes sarcasm too) where I deliberate my message to a thousand lines (exaggerating) in the most polite (some may call it cynical) way till one cannot possibly get angry at me despite me delivery the most crude or bad news.
Axcest
is a Malaysian gay portal (social networking site) which connects a lot of faggots locally. Being a typical social networking site, it has a few features that does something extra. Friendster has an option for you to smile at other users, but in Axcest, you get to do more than just smile at others.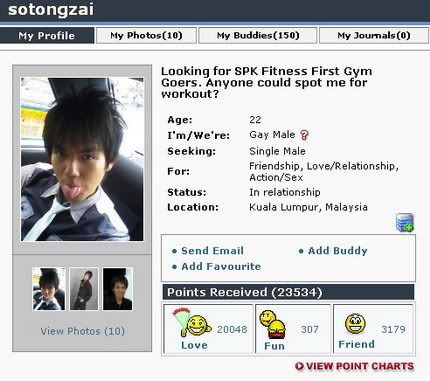 Yes, that's my profile
Love, Fun and Friend. You get to send the different so called points to other users that you want to send. Normally a Love point means someone is attracted to you, while fun means someone wishes to have sex with you and Friend is as simple as he just wants to befriend you.
Yes, I know. It's like a cheat imitation of
Trevvy
's Kiss & Spank point.
But at any rate, my tale goes like this. I kinda have like a daily routine in Axcest where I point and return points of cuties who I fancy their appearances and I solely use the Love point only and none of the others. Then about a week or more ago, someone that doesn't exactly fall into the category of a pretty boy started pointing me Love points.
Meet
Michaelz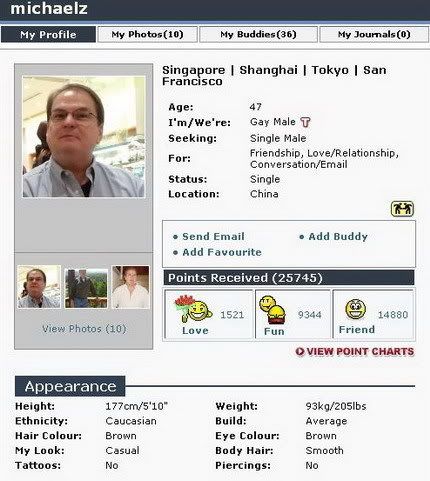 Slightly shorter than me but weighed 93kgs? OMFG!
I totally ignored and deleted his point from my list as I do not wish to accidentally reply his point as there's a shortcut for me to select all points received by cuties and just reply them. However, Michaelz was very persistent. He continued pointing me Love points which I was consistent of deleting as well. However, one day I forgot to check who pointed me and selected Reply All and
voila
, Michaelz might have misunderstood and took a hint that I finally accepted his Love point.
Ever since then, Michaelz continued his daily routine of pointing me despite me continue ignoring him. I got pretty annoyed that I have to daily filter him out from my reply list so I drafted an email for him.
Hi Michaelz,

I might sound rude but can I trouble you not to point me at all? As much as I respect that you have the liberty to do so but it causes inconvenience for me especially when I reply points as I have not the slightest intention to reply your Love point which I may have did in the past accidentally.

It's getting tiresome for me to manually delete your point everyday and I hope that you would consider my request as your action does not bring much benefit since I'm not interested at the first place. The only benefit that I can think of further might be for your amusement of seeing me getting ticked off?

At any rate, I hope you understand that I'm down to earth on what I desire and at the same time I'm also reasonably vocal about it.

Hope you have a nice day.

Cheers
Robb
And Michaelz replied this;
Hmmm...this might just be the most polite "FU** Off" message I've ever received. Please rest assured, I will NOT bother you again.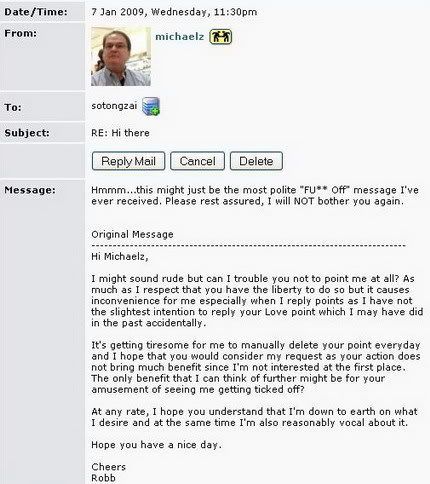 A copy of the message I sent
Ahhh, I'm so proud of what I can do with my words sometimes. :)
Cheers
Robb