I have a confession to make everyone.
I'm a lou sang addict. In case you have no idea what lou sang means, you can try wiki-ing yee sang as it's the very same dish which is only available during Chinese new year.
The shame of it, is I only get to eat this for like.. less than 20 days each year. It's an exquisite Chinese New Year dish in Malaysia and no one will serve it unless it's near Chinese New Year.
The ingredients? I don't know, but I know there a lot of veggies in it, some crackers, raw salmon pieces served with oil and plum sauce. Then the 'mixing' called 'lou' begins!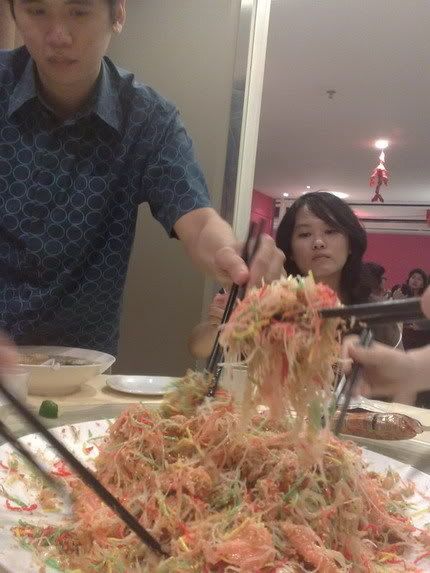 This dish is not exactly cheap for personal consumption as a small plate cost close to 40 ringgit while the larger one cost about 50. So all in all, it's a dish for group of people to share. And lucky me, having wonderful colleagues around made this possible as I personally had 2 lou sang sessions with them at Shanghai 10. :)
One of it was during
Pinky
's last day in Nuffnang.
Actually, that was the sole reason why I came back to KL on Thursday and not take the day off on Friday till the next week. See,
Pinky
. How much I value you? Lol.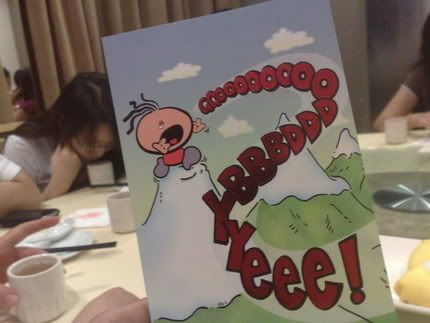 We gave her a card (
Mellissa
picked it and paid for it as well, lol) and all of us contributed the ink marks on the inner side of the card.
Pinky
was no doubt happy (I hope she was) as she read what we crapped on the card for her.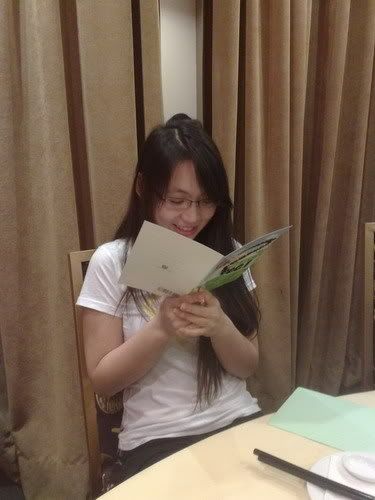 KY
and
Mellissa
got her an extra gift for farewell which was a dress. A very loose dress just in case Pinky puts on weight. Lol.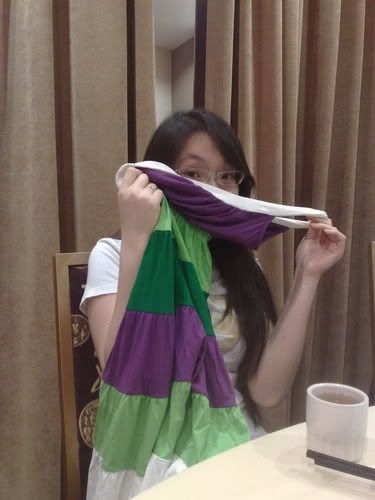 Me and Zach on the other hand gave Pinky a box of Ferrero Rouche chocolates that will no doubt contribute to her waistline for farewell. May your days ahead filled with chocs, sweets and fats, Pinky. :x
Wait.. I sidetracked. Lol. This is supposed to be Lou Sang post.
Chinese New Year has passed now. No more lou sang for me this year... I guess I'll just have to wait till next year for my number 1 Chinese dish...
Good bye Lou Sang!! I'll miss you very much!!
Missing Lou Sang already
Robb